Battle Ax
The Battle Ax is an innovative rotor design developed by Loftness for mulching heads. It was engineered to optimize the performance of Quadco blades without sacrificing productivity if carbide teeth were used instead.
INNOVATIVE DEPTH GAUGE DESIGN
The distinguishing feature of the Battle Ax is the depth gauges, which are bite-limiting devices similar to raker teeth on chain saws. Quadco blades have a tendency to bite into material too aggressively, which can slow or stall the rotor, but the depth gauges help regulate the amount of material being fed into the mulching head at one time. The result is easier operation, faster production and more desirable particle sizes.
But what makes the Battle Ax depth gauges better than ring-style rotors or any other type of bite-limiting rotors on the market? The advantage of depth gauges is they are not overly limiting, which is a common complaint among competitive products. This is especially true when using less aggressive carbide cutting teeth. Many other bite-limiting rotors struggle biting into material and picking it up off the ground for mulching when using carbides. The Battle Ax, however, is still able to pick material off the ground with carbide teeth, making it a solid option no mater which style of teeth are used.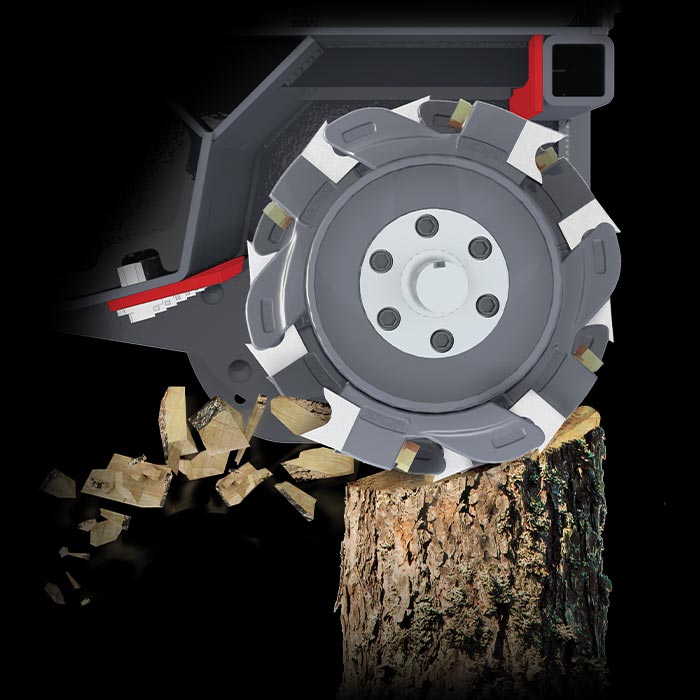 OTHER BATTLE AX ADVANTAGES