10-FOOT GRAIN BAG LOADER
Loftness is North America's leading brand of grain baggers, and the GBL10 is the industry standard for grain bag loaders. Featuring a proven, time-tested design, many farmers have come to rely on this grain bagger over the years. That's because it's reliable, heavy-duty and made in the U.S.A. Of course, it's also backed by Loftness' superior customer support and large North American dealer network.
Flexible Storage. Unlimited Possibilities.
There are different reasons for bagging grain. You could be using grain bags to speed up harvest. Or looking to add storage for a bumper crop. Or it could even be your primary grain storage method. Either way, we're here to help ensure your grain bagging success.
Read About the Advantages of Grain Bagging
FEATURES:
Bag Retention System
Maintaining a simple approach to a complex and important feature, the GBL 10 Bag Retention System removes all doubt regarding proper bag loading and rigging. The tensioning cord and ropes are adjustable for precise control in any application.
20-Inch Main Auger
The design of our main 20-inch discharge auger is optimized for maximum performance with 1/4-inch thick abrasive resistant steel flighting for long life. During operation, significant directional axial thrust loads are produced against the bearings. Loftness engineers designed the step-down shaft to properly offload these longitudinal forces.
Remote Controlled Bag Winch
Installing the bag on the loader is made easy by the cradle's 4,000-pound industrial-grade electric winch. Lifting the bag from ground level to the top of the tunnel is done with the push of a button, courtesy of a wireless remote that comes standard.
Bag Cradle
The bag is lifted from ground level into position with the touch of a button using an electric winch. The operator can stand next to the cradle while operating for precise control. After the bag is loaded, the cradle conveniently folds up and stores inside the tunnel. An anti-slip ladder makes perfect bag placement possible.
Specialized Tunnel
Proper grain distribution in conjunction with smooth and flawless bag feed is the starting point for precise control and nonstop operation. The one-piece tunnel is designed to distribute grain evenly throughout the profile of the bag.
Bag Pan
The bag pan is lowered to install the bag into position around the tunnel. Once positioned, the bag pan is then raised into the proper operating position to support the bottom of the bag during filling. The bag pan can be fine-tuned by adjusting the turnbuckle.
Adjustable Height
The hydraulic lift system is designed around a heavy-duty axle and is powered by dual 4-inch by 8-inch hydraulic cylinders.
Traction Tires
Maintaining control and position with the terrain is achieved through huge 12.5L 15-inch SureGrip chevron-style traction tires.
Disc Brakes
Complementing the precise brake pressure control system are large 12-inch diameter disc brake rotors and calipers. Used in the automotive racing industry, these brake components were chosen for their performance, high degree of reliability and availability. They feature an easy-to-bleed system.
Hand Wheel
The hand wheel controls the master brake cylinder. It allows slight, precise brake pressure adjustment to both traction wheels simultaneously, helping to ensure the bag loads in a straight line. Pressure is displayed via a large liquid-filled pressure gauge mounted next to the control wheel.
Extra-Large Hopper
The 8-foot by 8-foot hopper is an easy target to hit, helping reduce spillage. It can be loaded from either side or from both sides simultaneously. The hopper is all-steel construction and can take the bangs and dings of in-field use.
Auger Clean-Out Door
When you're finished using the grain bagger, use the easy-access door to clean grain out of the auger.
Fold-Up Hitch
A fold-up hitch allows compact storage of the grain bag loader. The hitch comes complete with a jack stand.
Safety Warning Lights
Proper lighting is included for safe road transport.
Standard Parts
Industry standard, easy-to-get parts reduce downtime during your critical harvest window. Standard nonproprietary bearings, chains, U-joints and brake system parts are available at most farm, fleet or auto parts suppliers.
Chain Drive
The power is transferred from the PTO shaft to the bag loading auger via a heavy-duty #80 chain-drive system. Chain drive shafts are supported by opposing dual greaseable bearings. An easy-open panel (no tools required) offers access to all drive system components.
Drive Shaft
Power to the drivetrain is delivered through a Walterscheid W2400 Series extra-long shaft that is protected by an easily accessible shear bolt. Power is delivered to the discharge auger shaft by a heavy-duty chain.
50 HP/540 PTO RPM Requirement
Optional Work Light Kit
Don't let the dark slow down your bagging operation. The optional work light kit includes three magnetically mounted LED lights, each producing 2,400 lumens.
Optional Roll Tarp
Roll top covers are fast, simple and smooth. The one-man operation of the roll top canvas is done from the ground, through the permanently mounted and storable extension crank. The rolled-up tarp stores neatly out of the way. It can be supplied by ACI or Shur-co.
Optional Truck Unloading Auger

10-FOOT GRAIN BAGGING SYSTEM
We've got everything you need for loading and unloading 10-foot grain bags. Check out the other products in our 10-foot grain bagging system.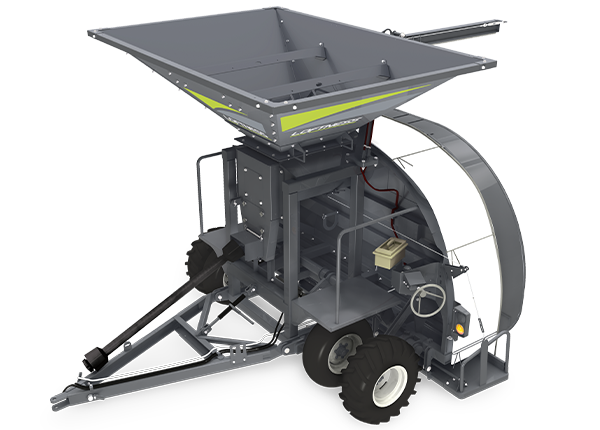 10-Foot XL Grain Bag Loader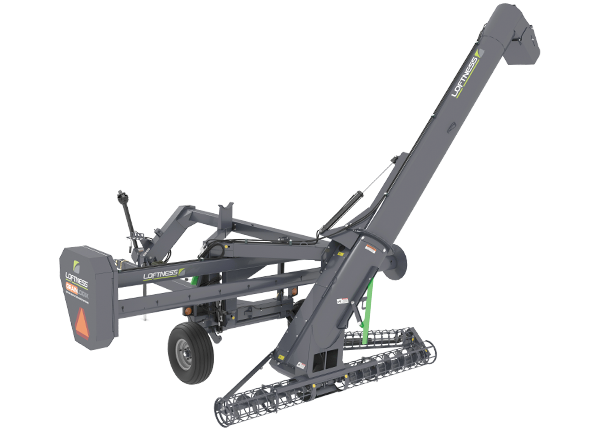 10-Foot Grain Bag Unloader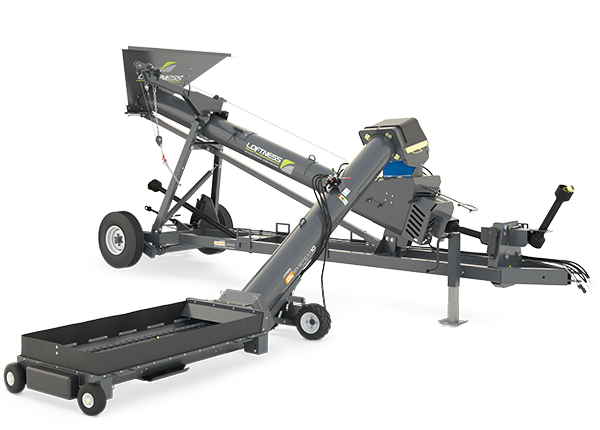 10-Foot Truck Unloading Auger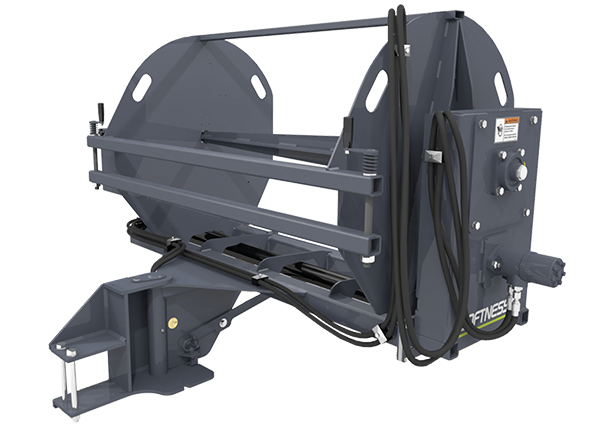 Grain Bag Baler
SPECIFICATIONS
Grain Bag Loader Model Number
GBL 10
Unit Weight
4,030 lbs
Tractor Requirement
50 HP - 540 PTO
Without Truck Unloading Auger
Wireless Remote
Included lanyard - part N30865
Operating Dimensions
Length
14' 1"
Width
12' 10"
Height
10' 9"
Storage/Travel Dimensions
Length
14' 1"
Width
12' 10"
Height
10' 9"
Hopper Dimensions
GBL 10 Loader
8' 4" X 8' 8-1/2"
PTO
RPM
540
Horsepower
50
Shaft Size/Type
6-B Spline
PTO Driveline Type
Weasler 35R
Hydraulics
GPM (required)
6
PSI (required)
2,000
Connector Type
Quick Couplers
Auger Sizes
Primary Auger
20" / 385 RPM
Wheels/Tires
Op. Wheels/Size/Type
33" 12.5L-15, SureGrip
Transp. Wheels/Size/Type
31" 9.5L-15 Implement
Performance
Transfer Capacity
30,000 Bushels/hr
Bag Handling Capacity
Diameter
10' Bags
Max. Length
300'
MANUALS
LITERATURE
PRICE SHEETS