12-FOOT TRUCK UNLOADING AUGER
Need to transfer grain from a truck into a grain bag? The Loftness Truck Unloading Auger is perfectly matched for the GBL12 Grain Bag Loader. The versatile swing hopper can accept grain from bottom traps, side chutes or dump trailers. And with a transfer rate up to 11,900 bushels per hour, it won't slow your operation down.

FEATURES:
Swing Hopper
The low profile swing hopper is the key to successful truck unloading. Twin 7-inch diameter pan augers move grain quickly from the truck's discharge into the 13-inch diameter swing auger. Hopper height is 12 inches or 19 inches with extensions.
Traction Tires on Hopper Drive
The hydraulic-drive hopper wheels are used to move the swing hopper into position under the truck's discharge. The traction tires are foam filled to eliminate air loss from bead failure.
Hopper Gage Wheels
Free-wheeling, rigid gage wheels are adjustable for hopper height control. Solid rubber tires support the far end of the hopper when swinging under the truck's discharge. The swing hopper is designed to rotate under the truck's discharge as the bag loader advances. The skid plate in the center of the hopper helps provide a pivot point for rotation.
Transition and Swing Augers
The backbone of the truck unloading auger, the 13-inch diameter transition auger delivers grain to the pivot point over the base of the main auger. The pivot point is the 13-inch diameter swing auger unit, which provides positive positioning while aligning the swing hopper, and also allows the hopper to fold into its travel position.
Operator Controls
Complete control is provided through the hydraulic control valve console, located midway down on the swing auger tube. The operator has excellent visibility and control when positioning the swing hopper under a moving or stationary chute.
Hopper Transport
The swing hopper and auger are easily winched up into transport position with an electric hopper winch. Transport chains are deployed once the hopper is in position. Cable tension is then released for transport.
120 HP/ 5 GPM Tractor Required

12-FOOT GRAIN BAGGING SYSTEM
We've got everything you need for loading and unloading 12-foot grain bags. Check out the other products in our 12-foot grain bagging system.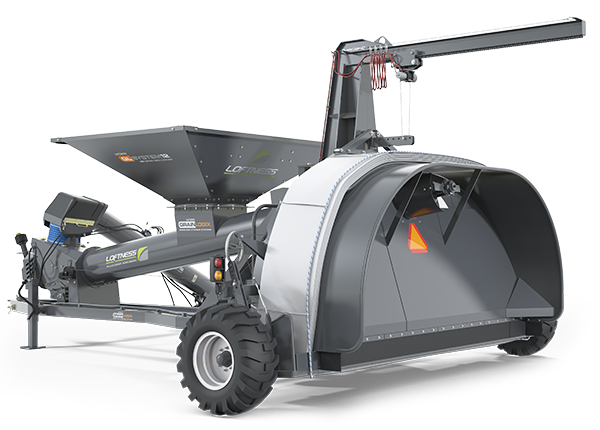 12-Foot Grain Bag Loader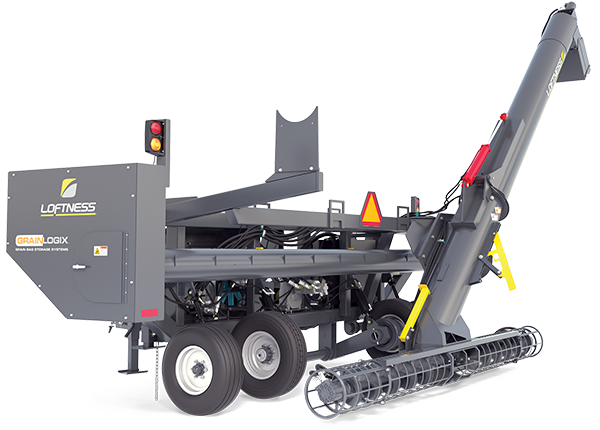 12-Foot Grain Bag Unloader
SPECIFICATIONS
General
Model Number
N29114
Operating Weight
1,220 lbs
Operating Dimensions
Length
32' 8"
Width
29' 9"
Height
12' 9"
Storage/Travel Dimensions
Length
32' 8"
Width
19' 8"
Height
12' 9"
Hopper Dimensions
GL-12 Truck Auger
6' 8-1/2" x 3' 1/2" x 12"
GL-12 Truck Auger w/ skirting
6' 8-1/2" x 3' 1/2" x 19"
Hydraulics
GPM (required)
6
PSI (required)
2,000
Connector Type
Quick Couplers
Auger Sizes
Twin Hopper Auger
7" / 750 RPM
Primary Auger
14" / 540 RPM
Wheels / Tires
Wheel Size
15"
Tire Size
16-6.5
Tire Type
Foam Filled Traction
Performance
Transfer Capacity
11,900 Bushels/hr
Bag Handling Capacity
Diameter
12' Bags
Max. Length
500'