December 2021
A large-scale mechanical tree trimmer with a 75-foot boom can tear into towering pines, and a dedicated mulching machine will make mincemeat of the thickest buck brush. But good luck operating these machines along right-of-ways in the middle of an urban development. Not to mention, transporting these giants in and out of these areas causes major headaches of their own.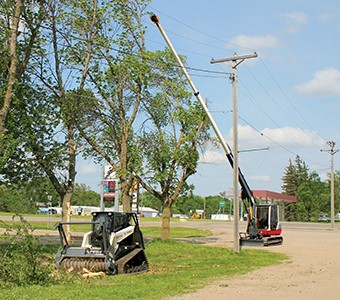 That means using a bucket truck or physically climbing trees to cut limbs by hand are about the only other options left for many professionals. Although both of these get the job done, neither is very efficient, and both can be very dangerous.
Luckily, compact mulching equipment has improved significantly in recent years, allowing vegetation management professionals a wider range of tools to choose from when clearing right-of-ways. In some cases, they can even work together in an efficient one-two punch combination. Here are a few of the compact equipment options available today:
Compact Mechanical Tree Trimmers
Bucket trucks and chain saws certainly get the job done, but there's nothing efficient about that. Raising the bucket, trimming the branch, lowering the bucket and moving the truck ahead to the next tree is time-consuming. Enter the compact mechanical tree trimmer.
Using a mini-excavator chassis, these machines are equipped with a saw blade on a nonconductive, hydraulically telescoping boom capable of reaching up to 53 feet — high enough to take on the vast majority of trimming jobs. This allows the operator to remain safely on the ground, while quickly trimming branches with the boom.
The design of the compact tree trimmer allows it to access tight spots easily and quickly with its zero-turn radius and 360-degree boom swing. It can maneuver much easier than other larger trimming equipment and no time is wasted repositioning it or climbing in and out of bucket trucks.
Its size also makes it ideal to reach areas that a bucket truck or larger trimmer can't, such as urban environments where houses, busy streets and yards are packed together. As an added bonus, its quiet operation substantially cuts down on disturbances to any surrounding residents. Furthermore, the design of a compact tree trimmer makes for easy transport from one jobsite to the next, thanks to their incredibly small footprint. And no special transportation is required either, as a smaller crew cab tractor-trailer rig setup is all that is needed.
Mulching Heads for Skid Steers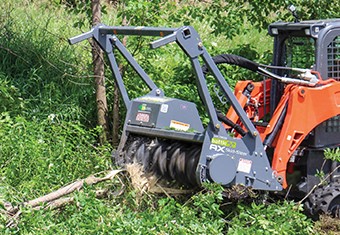 While mulching heads on skid steers aren't anything new, horizontal drum mulchers have come a long way and are great for clearing tall grasses and small- to medium-sized trees. They are available with hydraulics that automatically adjust to loads and high-RPM rotary heads laced with a gamut of cutter options, such as carbide teeth and knives.
The newest designs include limiters which help keep trimmed branches from feeding too quickly, which tends to be an issue with older models. The two main types of limiters found on today's mulching heads are rings and depth gauges. Ring-style mulching heads have metallic rings fixed around the rotor between every tooth. They keep trees, branches and any other material from entering the machine deeper than the rings.
Depth gauges are a different approach to controlling the amount of material being fed into the mulching head. The depth gauges are welded onto the rotor and function similarly to raker teeth on chain saws. They offer added flexibility allowing operators to bite into material more aggressively when needed.
Thanks to the increased hydraulic output of newer skid steers, they now allow for higher-performance attachments capable of tackling tougher jobs that once had to be completed by bigger equipment. And as we continue to see advancements in skid steer operations, drum mulchers continue to advance as well.
Mulching Heads for Excavators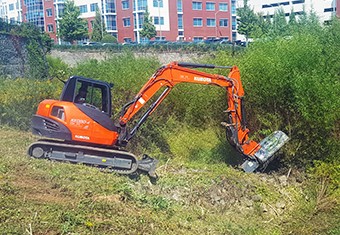 While skid steers are great for getting into tight spaces and maneuvering through urban sprawl, there are still circumstances which call for a different solution. Steep or wet ditches, or areas near bodies of water can be dangerous, or just plain inaccessible, for a skid steer to try and navigate. That's where mulching heads for excavators come in. These powerful machines can reach down to mulch vegetation that would be hard to get with any other piece of equipment.
Similar to horizontal drum mulchers for skid steers, the design of these mulching heads may feature rotors with built-in depth gauges to prevent the attachment from engaging too much material at one time. This unique design is more ideal for managing the amount of material being fed into the attachment, something ring-style rotors can't say.
Some mulching heads even feature a two-stage cutting chamber which helps to produce smaller particles by cutting material twice before it is discharged toward the ground. These units come with adjustable primary shear bars, allowing operators to narrow or widen the clearance depending on the desired material size and production rate.
One-Two Punch
While each of these pieces of equipment offer their own advantages under certain circumstances, sometimes more than one is the best solution to get the job done most efficiently. For instance, after a compact mechanical trimmer has cut down the branches, there is still the need to mulch the branches that now litter the ground. This is where a horizontal drum mulcher comes in, quickly shredding this debris. And when the job is done, both of these smaller machines can be easily loaded onto the same trailer for effortless transportation to the next site.
Undoubtedly, compact vegetation management equipment isn't right for every clearing or cutting job. However, they are still versatile machines that can make quick work out of right-of-way cleanup. Unlike traditional methods which can be cumbersome and expensive, compact mulching equipment can expand the versatility of your fleet, improve production and increase safety. They are also unique resources that can set a company apart and become a key component when bidding for work.