April 2023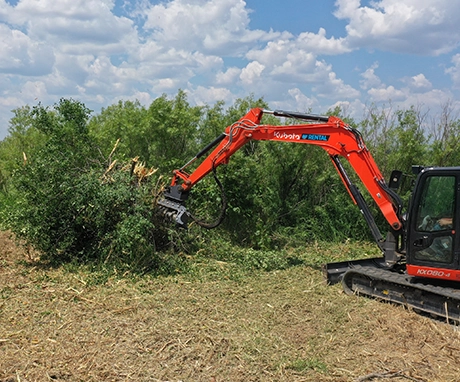 Excavators hold some huge advantages over other power units when it comes to vegetation management work. They offer superior visibility with smooth, precise hydraulic controls. And, more importantly, the arm can reach into steep ditches, sloughs and other areas that simply cannot be accessed by skid steers or other mulching equipment. In fact, without an excavator the only other option for some of these areas is to enter by foot. Hands down, that's the last thing anyone wants to do.
Although an excavator may be an easy choice for some vegetation management jobs, selecting the right mulching head may not be as straightforward. There are many models to choose from, depending on the weight class of the excavator and hydraulic output, plus a variety of options available to meet individual needs. To simplify the process, below is some advice for choosing the right mulcher for your mini excavator.
Sizing Things Up
Generally, mulching heads are categorized according to different weight classes of excavators. For instance, one series may be designed for excavators weighing from 10,000 to 20,000 pounds, while the next series will work for excavators ranging from 18,000 to 36,000 pounds. It continues to scale up to accommodate the largest excavators on the market.
After identifying the appropriate excavator weight class, the mulching head needs to be configured correctly for the hydraulic output of the power unit. Some mulcher manufacturers offer different hydraulic motor options to handle various flow ratings, while others have different belt drive configurations. For instance, different pulley combinations are recommended for use on excavators with 15 to 20 GPM hydraulic systems than for 20 to 24 GPM. Furthermore, some larger mulching heads may have a piston motor that is adjustable to match the hydraulic output of the power unit.
When comparing different brands of mulching heads, one may notice that some are direct driven and others are belt driven. Direct drives are a simplistic approach to powering the rotor, but the motor housing sticks out the back, and some operators find it can get in the way of operation if trying to work against a post or other obstacle. Belt drives eliminate this impediment, allowing the unit to work much closer to objects. Not to mention, belt drives are a time-tested design for providing reliable power to the rotor while isolating the motor from shock loads.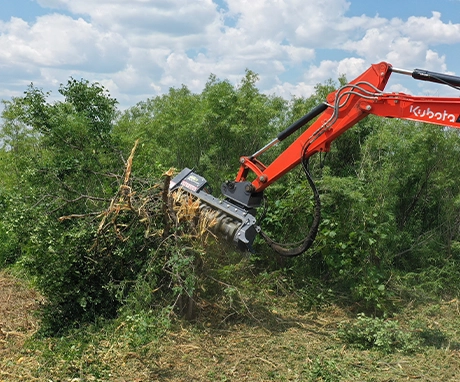 Getting Attached
Another factor that makes excavator attachment selection different than with skid steers is the lack of a universal mounting system. That means the end user needs to work with the equipment dealer to ensure the appropriate mounting style is installed for the type of excavator being used.
Along with the mounting system, a pivoting hitch is a strongly recommended accessory when purchasing a mulching head for an excavator, as it will significantly improve the operating experience. As the name suggests, a pivot hitch allows the operator to tilt the mulching head left to right. Keep in mind, however, that not all pivot hitches are the same. Some allow the attachment to be pivoted up to 45 degrees either way, while others may have a more restricted range of motion.
Tilting the head allows the operator to fully expose the knives for cutting into trees. Additionally, by tilting and positioning the head so that the shear bar rests against the tree, the tree can be held in place while it is mulched to the ground. Without a pivot hitch, the operator isn't able to do this, and the tree will wobble, or continuously bounce off the rotor, making the process much more inefficient. A pivot hitch is useful for ground mulching as well, since the head can be tilted in a way that traps material for finer mulching without having it eject out the back.
Making the Cut
Beyond the basics of pairing the weight, hydraulic specifications and mounting style of an excavator to an appropriately sized attachment, one also needs to consider some of the nuances that vary from one brand of mulching head to another. One of the more noticeable differences is the rotor style. Many mulching heads now include some sort of limiter to prevent the attachment from biting into material too aggressively, which can slow the rotor and lower performance. These limiters are designed to allow the optimal amount of material into the drum to achieve the highest possible production rates. This feature is especially advantageous for increasing efficiency with excavator heads, since excavators typically don't have abundant hydraulic horsepower to put toward the attachment as many skid steers do.
The two main types of limiting rotors available today are ring-style and depth gauges. Ring-style rotors are generally known to have the most restriction. This is especially evident when using carbide cutting teeth, as they don't pick material off the ground very well for processing. Depth gauges, on the other hand, function like raker teeth on chain saws. Many operators find that depth gauges aren't quite as limiting as rings, allowing them to work faster and pick up material from the ground better, even when using less aggressive teeth.
After determining the type of rotor that best fits his or her needs, one also needs to select the cutting teeth. Options include sharpened knives, beaver teeth and carbide teeth. Knives are quite popular on excavator mulching heads, since they are capable of cutting finer and faster than other styles. The downside is that knives require regular sharpening, which is a deterrent to some.
Like knives, beaver teeth are made of heat-treated steel, but they do not slice as well. The distinctive pointed shape of beaver teeth helps them pick up material from the ground, despite being less aggressive than knives.
Carbide teeth are a durable, low-maintenance option for inexperienced operators. They are often recommended for rocky conditions, as they are less prone to damage than knives. However, rocks generally aren't as big of a concern with excavator applications, since they aren't often working close to the ground.
Mulching heads can also differ in how they actually cut material. For instance, some mulchers have a two-stage cutting chamber, which is designed to cut material against two different shear bars. This feature allows operators to produce a finer mulch with fewer passes, as desired. As an added bonus, the primary shear bar may be adjustable for controlling particle sizes. Not all mulching heads have a two-stage cutting chamber, though, so the ones without it may require more passes to process material as thoroughly.
The Little Things That Matter
Finally, most mulching head manufacturers offer a few options unique to excavators. The first is a spade hook, which is helpful for positioning material to be mulched. A hydraulic thumb can also be added for even better use of the spade hook.
Of course, there are other considerations that apply to all equipment purchases — not just excavator mulching heads. Heavy-duty construction, a good warranty program and reliable dealer support will all go a long way toward ensuring success on the job. But the extra homework of understanding all the available performance features and finding the right fit for your excavator and unique operation will help you get the most out of your mulcher.