March 2022
The South Dakota Department of Transportation (SDDOT) is looking to agricultural grain bagging equipment to help with its salt storage needs. That's because at the end of its budget cycle, SDDOT typically has the desire and the funds to rebuild its salt stockpiles, but not the storage capacity.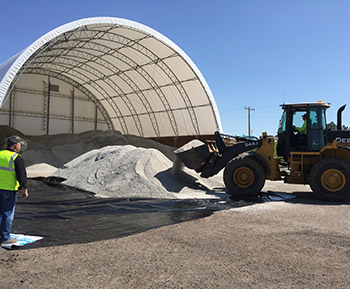 Brad Norrid, Winner, South Dakota, Area Engineering Supervisor, helps oversee 1,121 miles of roadways, including 131 miles of interstate, serviced from seven satellite locations in the south-central part of the state. Between the existing pole barns and hoop buildings at the various locations, he currently has the capacity to hold about 3,000 tons of salt per satellite location/shop, but he'd like to have more storage to help prevent delivery and rationing issues that can occur with winter salt purchases. "We've never run out of salt before, but we've come close," he said.
Norrid came up with the idea to start bagging salt, which he felt could be a more flexible, time-effective and budget-friendly alternative to constructing permanent structures. As a result, he contacted Loftness, a leading manufacturer of grain bagging equipment, for an on-site demo with himself and other SDDOT employees from around the state.
The crew used a telehandler to dump salt into the grain bagger, which loaded the salt into a 10-foot-diameter polyethylene bag. When finished loading, the bag was sealed to create a weather-proof environment for safe storage. Norrid also found this approach to have environmental benefits. "The bags guard against leaching," he said.
When the crew was ready to unload the salt from the bag, they simply sliced the bag open and pulled the flaps away from the salt pile. A payloader was then used to scoop the salt off the bag and place it in the desired location. "The whole process moved along very well, especially for having little experience," said Norrid. "We learned a lot in our initial run."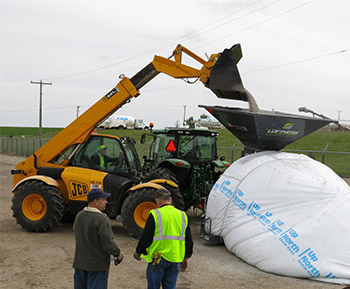 The grain bagger was put to the test one more time in Sisseton, South Dakota, after a storm in August 2016 severely damaged one of SDDOT's salt storage buildings. Another Loftness representative brought the grain bagging equipment to the Sisseton location, where he trained several other employees how to load salt. Using a telehandler, the crew filled four polyethylene bags with about 300 tons of salt from the damaged building. Afterward, SDDOT demolished the salt storage building and plans to build a replacement while the salt is kept safely in bags.
Again, SDDOT was very satisfied with how the equipment loaded salt at the Sisseton location, and the department eventually decided to purchase the grain bagger, which will initially be stationed in Pierre, South Dakota. "It's another tool in the tool belt," said Norrid. "We think it has great potential to help us and other operations serve customers better."