March 2022
With harvest 2018 in full swing, many farmers are wondering what to do with their crops…especially soybeans. Record harvests and trade troubles have taken their toll on futures markets and basis. Some elevators have already stated that they will be turning away soybeans. This is leaving farmers scrambling to figure out where to store their crops until markets bounce back.
Grain bagging is by no means a new technology when it comes to temporary crop storage, but many farmers remain uneasy about using them for soybeans. According to one Loftness customer, however, there's no reason to worry. In fact, he has been bagging soybeans on his farm for five years.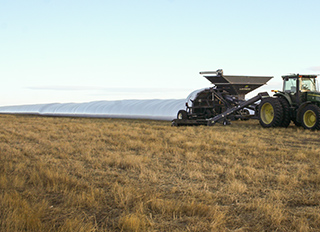 The Morris, Minnesota, farmer originally got into grain bagging for his corn crops, but one year decided to try bagging beans on a quarter of land because the basis in his area was so bad. After he found success with that quarter, he gradually began bagging more until he was essentially bagging his entire crop.
The biggest advantage of using grain bags for his soybeans is the convenience factor, "You only need one guy if you're bagging in the field, that's the grain cart operator." For him that means finishing his harvest as quickly as possible. There's no waiting on trucks or the elevator. Another convenience factor that he likes about bagging his soybeans is the ability to quickly load the truck and send it to the elevator, "Just line it up, load and take it straight to town."
While it may be a while before the cash market for soybeans improves, the Minnesota farmer is no stranger to longer-term storage with bags. "I've bagged beans up to two years before. As long as you choose a good spot, a sealed bag will not change. You put 13 ½ in and you're going to get 13 ½ out. If you bag something really wet, you're taking on a lot of risk. But I wouldn't hesitate to bag beans at 15 if they were coming out in the winter."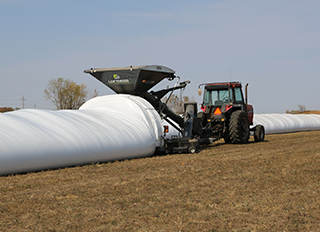 "The key is you need to pick the right spot, you can't just bag anywhere. It should be a good high spot and running north and south. Don't bag under trees or the squirrels and other rodents…well… you'll have problems. If you put them in a mud hole, what do you expect you'll get back? That's the problem a lot of guys run into is finding a spot to bag that's good."
So, what should farmers keep in mind when considering bagging soybeans?
The placement of the bags is crucial to making sure what you put in comes out in the same condition.
Find a high spot that has good drainage and is not vulnerable to flooding.
Choose a site that allows access in all seasons and weather conditions.
Place bags north and south to ensure even heating by the sun each day.
Proper sealing of the bags will make sure the carbon dioxide levels stay constant and helps reduce fungal diseases without the use of chemicals.
Maintain adequate space between the grain bags for the unloading equipment and trucks to travel without damaging subsequent bags.
If farmers keep these simple guidelines in mind when they start bagging beans, the overall process will run smoother. Finally, remember that you can always start small, to get a feel for the process before moving on to your entire crop. The Loftness customer says he'll be bagging beans again this year, "The first year I tried it the soybean market went up a lot from the day I bagged them to the day I hauled them in. I guess that's all we can hope for again this year."