October 2022
Loftness has added a PTO-driven ditcher attachment to its line of agricultural equipment. It features heavy-duty construction for reliable performance in various drainage improvement projects.
Ratcheting skid shoes on the new ditcher offer quick and easy adjustment of the cutting depth up to 12 inches. The attachment also has adjustable impeller blades for creating either 18- or 20-inch-wide ditches with the power to spread soil up to 30-foot distances. The impeller blades are reversible to double the service life before replacement is needed. A point shank is included to break up soil ahead of the impeller, which is especially beneficial when running in hard or rocky conditions.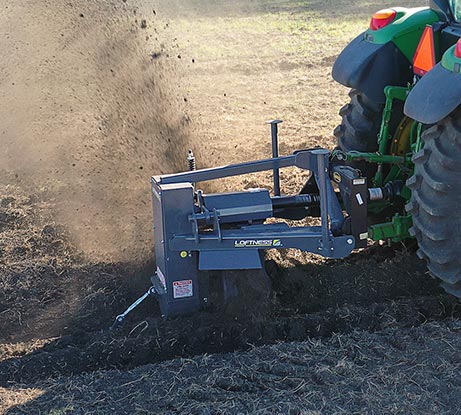 Designed for tractors with 50 to 250 horsepower and either 540 or 1,000 PTO RPM, the ditcher has a five-band belt drive with taper-lock sheaves for efficient transfer of power. It is compatible with Category 2 or 3 Quick Hitches and comes with integrated jack stands for easy hookup and disconnecting. Recommended tractor speed is 2.5 to 5 miles per hour, depending on soil conditions.