March 2022
As Zane Erickson looks out over his soybean fields, waiting for the rain to let up so he can finish his harvest, he already knows that the beans will be going straight into bags this year. As are many farmers in the country, Erickson is feeling the pressure as weather continues to hinder his ability to get into his fields and finish his harvest. If there's one thing that North Dakota farmers know, it's that when the calendar turns to October, snow is just around the corner.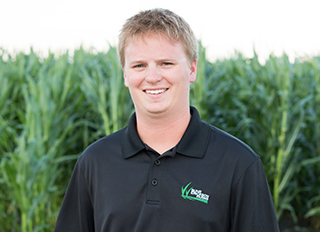 Erickson's main crops on his Buffalo, ND farm are corn and soybeans. But, he also produces dry beans as well. Erickson began grain bagging about four years ago with his corn. A bumper crop left him scrambling for storage space and the markets weren't cooperating, so he couldn't offload it at the elevator either. That left him with limited options. He had seen neighbors successfully bagging their corn, so he decided to give it a try too.
Eventually, Erickson began having the same troubles with his soybean crops as he had with corn. Lack of storage was the biggest factor, but he was also looking for a way to capture the carry in the market. He knew he'd need to hold on to the beans for a few extra months to do so. He had already seen success with bagging his corn previous years, so he decided to try his beans, "Bagging was a great option for me, especially with the market conditions." After the success he found his first year, he quickly realized that bagging his soybeans was a no-brainer that gave him the flexibility he was looking for. No longer at the mercy of the elevators or the markets, he was now in control.
This will be Erickson's second year bagging soybeans. "We usually put them in there for six to nine months," said Erickson. "As long as they aren't sitting there for years they do just fine."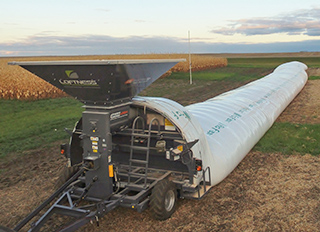 Like Erickson, many farmers have plenty of confidence bagging corn and other crops, but have less experience when it comes to bagging soybeans. However, Erickson attributes his success with bagging soybeans to site prep. "I wouldn't treat them a whole lot different than anything else. The biggest thing is making sure it's on really well drained ground. I'd say site prep is more critical on soybeans than corn because corn seems to handle adversity better than soybeans will," encouraged Erickson, "Make sure the ground is smooth so you're not poking holes in the bottom of the bags. You also need to make sure the area is well drained. That's probably my biggest tip to others looking to bag soybeans."
Erickson was eager to share the benefits of using a bagging system to temporarily store his crops, "We've had great luck with the Loftness bagging system. We use it as overflow storage when the market doesn't allow us to forward contract our grain at harvest time." Something that saves Erickson a lot of money, "It's been a great tool to have in our toolbox, especially as a growing farm. It's really a cost-effective way of doing things."
Even though Erickson hasn't had a chance to use his Loftness bagger yet this season he knows it won't be long. "As soon as the rain lets up, we'll be out there in full force."