April 2018
Loftness Introduces Bag Baler Attachment for Easy Handling, Recycling of Used Grain Bags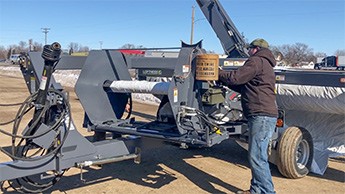 HECTOR, Minn. — Loftness Specialized Equipment has introduced a new Grain Bag Baler attachment designed for new and existing models of its GBU10 grain bag unloader. The attachment takes used grain bags directly from the GBU10's roller and winds them up tightly for tying. The finished bale allows for easy handling and recycling of the used grain bags. Additionally, the product eliminates the need for secondary transport and alleviates the hassle of unrolling bags onto the ground.
The Grain Bag Baler installs easily onto the GBU10 grain bag unloader, requiring no drilling or welding. It is compatible with 9- and 10-foot-diameter grain bags that are up to 300 feet long. A hydraulic motor winds the bag, while an adjustable tensioner helps feed the bag properly into the unit. When the bag is finished winding, a twine wrapping handle assists with tying.
The Grain Bag Baler features heavy-duty steel construction for maximum durability, including a rugged 3-inch-by-3-inch steel tube frame. The winding and discharging functions of the attachment are controlled by a simple two-lever control valve, which requires one hydraulic outlet to operate.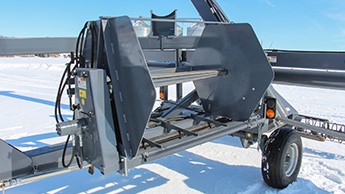 Loftness manufactures the GrainLogix line of grain-bagging equipment, the FertiLogix line of fertilizer handling equipment, the CropLogix line of crop shredders, the VMLogix line of vegetation management equipment, and the SnowLogix line of snow blower attachments. For more information, contact Loftness Specialized Equipment, P.O. Box 337, Hector, MN 55342, call 800-828-7624 (U.S. and Canada) or 320-848-6266 (international), email info@loftness.com, or visit www.loftness.com.