March 2022
Like many other farmers, Andrew Englin from Comfrey, Minnesota, recently made the decision to start spreading his own fertilizer. "We have spread our own fertilizer before," he said, "but it's been about 10 years."
To get back into fertilizer spreading, Englin purchased a Loftness RC800 row crop spreader in the spring of 2016. With variable rate capabilities and a 44-inch clearance for in-season nitrogen applications, the new spreader has allowed Englin to take advantage of newer application practices that weren't as popular when he previously spread his own fertilizer.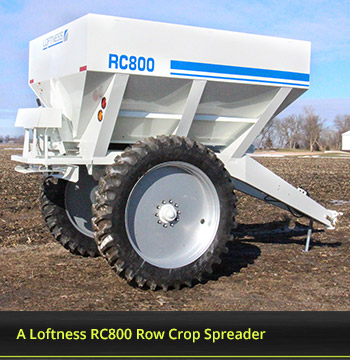 In addition to the new capabilities the RC800 spreader provides, it allows Englin to save significantly on custom application costs, which may run between $4.00 and $5.00 per acre for the standard rate in his area. The savings add up quickly when making multiple passes in a season.
Englin uses the spreader to apply granular fertilizer to cover most of his soil fertility needs. "I put on P and K with it in the fall," he said. "Some of my broadcast applications are variable rate—mostly set up in zones, but some using grids." He has applied urea in the fall, too, but now plans to switch to more spring applications after a leaching issue led him to try topdressing corn for the first time in 2016.
"We fall applied nitrogen in 2015 and lost some of it, so the corn was going to run short," Englin said. To ensure the crop would have enough nitrogen to reach its full yield potential, he topdressed urea near the V8-V10 growth stages, when nitrogen usage by the plant spikes.
On that particular crop, Englin experienced about a 50-bushel yield increase. While he admits other factors helped produce the outstanding yield, he believes topdressing contributed greatly. He said, "We tried some other topdressing above and beyond our typical nitrogen program, and that resulted in a 5 to 10 bushel yield increase."
Due to his success in 2016, Englin plans to continue testing variable rate applications and topdressing with the RC800, and both practices are set to become a bigger part of his program in the future. "We're definitely going to do some in 2017," he said. "It's worked out really good."