March 2021
For many years vegetation management contractors have struggled to find a good solution for trimming trees along utility line rights-of-way. Most will admit that the old-fashioned practices of climbing trees and using bucket trucks are time consuming and somewhat dangerous. The central division of Wright Tree Service, however, seems to be one of the few contractors that have discovered a better alternative.
Based in Kansas, Wright's central division is made up of multiple groups, including one headed by project manager Travis Platt. Platt's group services the area from Manhattan to Leavenworth, and for quite a few years they have been using two large-scale mechanical trimmers with saw blades mounted on long booms to trim branches near utility lines. Although these machines have helped increase efficiency, the sheer size of the units has limited their use. "They're so big that you can only use them on right-of-ways in rural areas," said Platt.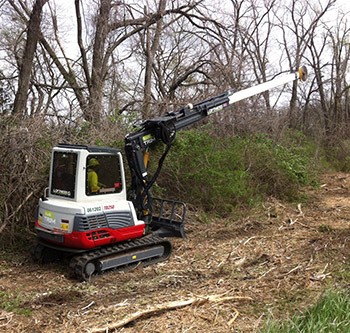 Due to these limitations, Platt was forced to use slower methods to manually trim many of the trees along his distribution lines. "We couldn't even use bucket trucks for most of the trees," he said. "We were hand-climbing a lot of the areas we service."
Eventually, the central division became aware of a new type of compact tree trimmer being tested by one of Wright's Minnesota-based groups to access areas where larger mechanical trimmers were too big to be used. The new trimmer was a VMLogix Kwik-Trim from Loftness Specialized Equipment. The Kwik-Trim uses a compact excavator chassis, but instead of having a hydraulic arm and bucket, it's equipped with a saw blade on a nonconductive, hydraulically telescoping boom, similar to the larger equipment on the market. With its small footprint, zero-turn radius and 360-degree boom swing, the machine is designed to maneuver much easier than other trimming equipment.
"We mainly heard about the Kwik-Trim through our fleet manager, who had been discussing the product with a sales representative," said Wright's central division manager Greg Williams. "We also run some Loftness mulching heads, so we were familiar with the company's equipment."
From his conversations with Wright's fleet manager and the Minnesota group, Williams determined the machine could be a good fit for his division, and in January 2013 he requested a demo unit of his own. After only 15 days of testing the new machine, Williams decided to purchase two units. "The compact size is what sold us," he said. "Not to mention, you can buy two compact trimmers for the price of one large one."
The purchase was well timed, as the company had recently been awarded a new contract to maintain approximately 1,900 miles of distribution right-of-way for Kansas' largest electric utility, Westar Energy. Much of the contract included areas that were unreachable with large mechanical trimmers. As a result, the two compact trimmers were immediately assigned to Platt's group, whose territory included the Westar rights-of-way.
Although the compact trimmers' 53-foot boom extension is shorter than what larger mechanical trimmers offer, they have been able to reach the vast majority of branches that Platt needs to trim along the Westar rights-of-way. "So far we've been successful on reaching just about everything that we need to get with the Kwik-Trims," he said.
In fact, the only circumstance in which Platt hasn't been able to use a Kwik-Trim along the distribution lines is when a branch overhangs the primary wires. If the branch were to be cut by a mechanical trimmer in this case, it would fall onto the line and cause an outage. "When we run into that situation, there's just no way around it, other than sending somebody up to climb the tree," said Platt.
Since purchasing the two compact trimmers, the company has experienced tremendous time savings. Platt said, "If the conditions are right, the Kwik-Trim can probably do as much work in half a day as two guys up in a tree can do in a week."
Overall, Williams agrees that Platt's group has boosted productivity with the Kwik-Trims. "By using compact trimmers instead of doing our traditional routine clearing, I estimate we achieve roughly 30- to 35-percent time savings," he said. "It has worked out really well so far, since about 80 percent of the work we're doing with the Kwik-Trims is not accessible by larger mechanical trimmers."
Westar has also taken notice of Wright's work on servicing the contract. "We're always looking for ways to get through more miles faster and at a lower cost," said Doug Lehmann, vegetation management supervisor for Westar. "And I've seen where the Kwik-Trim has sped up some of the production on our easements and clearings of our lines."
Lehmann has noticed other contractors taking hold of the trend as well. "I believe another contractor is using one of these machines on a different contract for us," he said. "Like any piece of equipment, it has its limitations, but I think there's a place for it in our work."
In addition to time savings, Wright has experienced other benefits from the compact trimmers, included increased safety. Now that crew members are using equipment to trim branches from the ground, they spend less time exposed to potential danger working in the trees. "The less time you spend climbing trees, the less chance you have of getting hurt," said Platt.
Furthermore, the compact trimmers have proven to be very easy to transport. Thanks to the compact size and light weight of the machines, Platt's group has been hauling the Kwik-Trims on a trailer behind a Ford F-450. "It takes less than half the time to load and unload them compared to larger mechanical trimmers," he said. "We can also maneuver the smaller trailer a lot better."
When using the compact trimmers in residential areas, Platt has also experienced better reception from homeowners. Because the machines are on tracks, they have a light footprint and, therefore, are gentle on grass. "You can use them in people's backyards without gouging the turf," said Platt.
Although Wright's central division has only used the compact trimmers on the Westar rights-of-way so far, the company sees much more potential for the new equipment. "We've only had the machines for a few months," said Williams. "And we've got so much work on Westar right now that we're concentrating on getting that done first. Then, we'll probably use the compact trimmers on other utilities."
The company looks forward to gaining more experience with the compact trimmers and using them to complement the larger mechanical trimmers in its fleet. Not only will the new equipment help Wright service existing contracts, but it can also play a role in bidding future contracts more successfully. "The Kwik-Trims definitely make us more competitive," said Platt. "We can move much faster than other contractors still using the traditional way of climbing."