November 2021
The vegetation management industry has seen some recent changes when it comes to the use of mulching heads on skid steers, excavators and other power units. And the design of mulching heads has also changed to better accommodate operators, helping them become more productive and create a better finish. Here's what you should know about the latest trends in mulching head design, and what it means to you:
Cutting Tooth Trends
For many years, carbide cutting teeth were the most popular tooth option for mulching heads. That's because they're highly durable, cost effective and virtually maintenance free. As a result, many mulching heads were once optimized for the use of carbide teeth.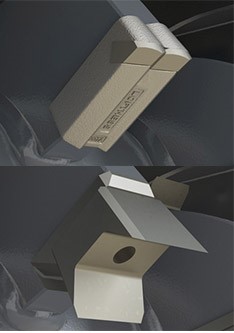 Lately, however, the industry has seen a shift, and many more vegetation management professionals want to use knives on their mulching heads. Although they need to be sharpened regularly and have a heightened risk of damage when striking rocks and other foreign objects, the knives offer unmatched aggressiveness that can provide a big productivity boost on the job. Also, the use of sharpened knives naturally results in a finer particle size, providing a more attractive finished product for the customer.
Rotor Redesigns
As knives are gaining popularity in recent years, manufacturers have responded with newer mulching head rotor designs that better accommodate the performance of knives. Because the knives are so much more aggressive than carbide teeth, some of the newer rotors are larger in diameter and often include some type of limiter to keep the knives from biting into too much material at one time. These limiters are intended to feed the proper amount of material into the knives for maximum efficiency, as well as produce ideal particle sizes.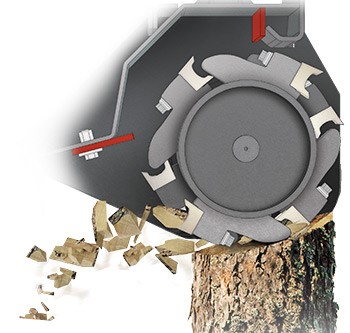 The two main types of limiters found on today's mulching heads are rings and depth gauges. Ring-style mulching heads have metallic rings fixed around the rotor between every tooth. They keep trees, branches and any other material from entering the machine deeper than the rings.
Depth gauges are a different approach to controlling the amount of material being fed into the mulching head. The depth gauges, which are welded onto the rotor in front of the cutting teeth, function similarly to raker teeth on chain saws. Although they do help prevent the teeth from taking in too much material at one time, the depth gauges offer added flexibility, allowing operators to bite into material more aggressively when needed.
Rings Vs. Depth Gauges
Ring-style limiters have been on the market for a longer amount of time. Depth gauges, however, were recently introduced to help improve on some of the shortcomings that vegetation management professionals have experienced with ring limiters. For instance, some find mulching heads with rings to be overly limiting. After a tree or branch is knocked down and the operator backs over it for mulching, the rings can hinder the ability to pick the material off the ground for proper cutting. On the other hand, depth gauges improve the ability to bite into material and pick it off the ground for mulching.
Additionally, ring-style rotors tend to create excess drag, since the rings are always rubbing on the material being mulched. This may cause the rotor to slow slightly or draw extra horsepower from the power unit. However, depth gauges are not in constant contact with the material being mulched, helping to alleviate these issues.
Carbide Tooth Compatibility
Even though knives have increased in popularity on mulching heads, many customers still desire the ability to switch to carbide teeth as conditions require, such as operation in rocky terrain. While all styles of rotors allow users to switch between knives and carbide teeth, not all rotors perform equally with different teeth.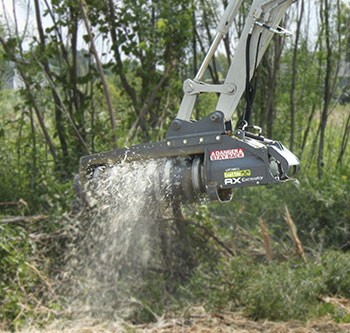 One common experience with ring-style rotors is that they do not seem as compatible with carbide teeth. The limiting design of rings, combined with the reduced aggressiveness of carbide teeth, tends to limit performance of the mulching head. This occurrence is especially noticeable when mulching material off the ground. Carbide teeth generally do not pick up the material as well.
Depth gauges are engineered to address this issue. Many users find that this newer style of rotor improves performance and picks up material better when using carbide teeth. This is a major advantage of depth gauges, since most of the work with a mulching head is done back dragging over material on the ground.
In the end, purchase decisions for mulching heads will largely come down to personal preference. However, the introduction of depth gauges offers a fresh alternative to maximize the use of both sharpened knives and carbide teeth. It's a great new option that vegetation management professionals can really sink their teeth into.