February 2022
How do you manage vegetation along 5,200 miles of right-of-way? As efficiently as possible. At least that's the motto of Northeast Oklahoma Electric Cooperative (NOEC), headquartered in Vinita, Oklahoma. Like many other electric utilities and vegetation management contractors, the cooperative once relied solely on bucket trucks to send workers up to hand trim all branches that encroached on its overhead electric power lines. However, the addition of a new compact mechanical trimmer proved to make much quicker work of this time-consuming task.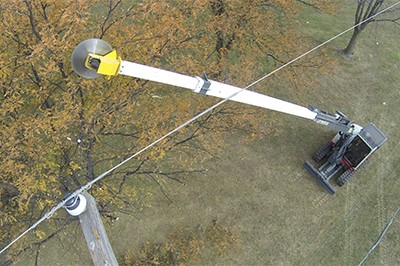 NOEC's service area includes six counties in the northeast corner of Oklahoma. To manage vegetation along its approximately 5,200 miles of right-of-way, NOEC not only contracts some of the mechanical clearing and herbicide application work, but also employs an in-house crew of 10 people to help serve the growing needs of the cooperative while ensuring better control of the work done. NOEC adheres to an integrated vegetation management approach to keep the right-of-ways clear, while dealing with the many environmental challenges of the area, including access issues, extreme weather conditions and periods of rapid vegetative growth.
For many years, much of the tree trimming along power lines was completed by hand, using bucket trucks to lift the workers into position whenever possible. While effective, the task was very time consuming. As a result, Ray Davis from NOEC's vegetation management department began investigating a new solution.
The new solution was a Kwik-Trim compact mechanical tree trimmer from Loftness, a manufacturer of vegetation management equipment. The Kwik-Trim features a telescoping boom on a mini excavator chassis. The boom reaches up to 53 feet with an industry standard 24-inch carbide-tipped saw blade at the end to easily slice through branches. A counter-rotating track control system gives the unit a zero-turn radius. Additionally, a 360-degree continuous boom swing, 90-degree boom arc and 35-degree boom tilt help the Kwik-Trim provide full coverage of the area around the machine.
While a 53-foot boom reach does not offer as much height as a bucket truck, Davis is pleased with its capabilities nonetheless. "With the species we have around here, I would guess the Kwik-Trim can reach 70 to 80 percent of the branches that need trimming," he said. "It does a good job reaching our dominant species of elm, oak and hickory, because their crowns are not that tall. Red oaks, cottonwoods and sycamore trees are more of a challenge."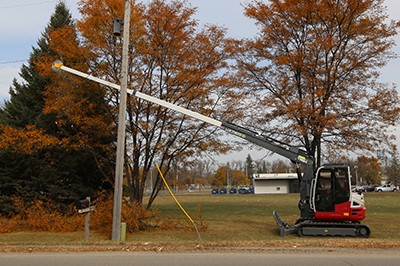 Despite the Kwik-Trim not reaching 100-percent of the trees that need trimming along his right-of-ways, Davis is very satisfied with the equipment purchase. "To be complete from ground to sky, we sometimes have to bring a bucket truck back in behind the Kwik-Trim," he said. "But it still saves a lot of time for sure."
Access is another challenge often faced by NOEC, due to difficult terrain in some areas, as well as obstructions such as fences or planted vegetation installed by the cooperative's members. Regardless, the compact size, wide stance and low center of gravity of the Kwik-Trim offer the stability and small footprint needed to enter most areas where trimming is required. In fact, Davis estimates the machine can access about 90 percent of the cooperative's right-of-ways, which is more than sufficient for the investment to pay for itself.
One of the biggest selling points of the Kwik-Trim for NOEC isn't how the machine performs on the jobsite — but how it gets there. "The mobility is a huge plus and helps make the unit so versatile," said Davis. "We can load it up with our F-550 truck and gooseneck trailer and easily haul it where we need it."
While the Kwik-Trim doesn't replace manual trimming or larger mechanical trimming equipment, the compact piece of equipment still plays a big part in NOEC's integrated vegetation management approach. It complements other equipment to help the cooperative provide the best service to members by maintaining system reliability. In fact, it has become important enough that NOEC recently upgraded to its third machine. "The Kwik-Trim's main job is to buy us time and help prevent outages," said Davis. "And it does exactly what we need it to do."