January 2022
New Mulching Heads Prove Successful for Kansas Contractor
Horizontal drum mulchers, or mulching heads, are commonly used in many industries, from forestry to land clearing. Perhaps the most work for this tool, however, is in right-of-way vegetation management. These contractors rely heavily on their mulching attachments to help deal with trees, brush and other vegetation that encroach on endless miles of utility lines, pipelines and railroad tracks. And in this highly competitive business, the latest equipment designs are often instrumental in helping contractors come out on top.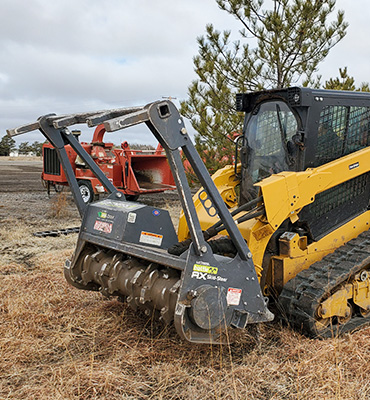 Jeff Solida of Solida Tree Service, Inc., is one example of a contractor who seeks the best equipment solutions to help his crew service right-of-way maintenance contracts as efficiently as possible. Founded in 1970, this family-owned business based in Phillipsburg, Kansas, got its start specializing in utility line clearance for electric companies. Today, Solida employs approximately 50 people and is responsible for managing vegetation along many of the overhead utility lines, railroad lines and pipelines in Kansas — a true testament to his success. "We service most of the rural electric cooperatives in the western two-thirds of the state," said Solida.
One of the most heavily used types of equipment in Solida's fleet is the skid steer mulching head. This versatile tool can be used to remove small trees and brush that start growing within right-of-ways. It's also great for quickly mulching the branches that the crew trims along the right-of-ways ahead of the mulching heads.
For years Solida had been using a more traditional style of mulching heads with carbide teeth. Like many other contractors, Solida enjoyed the reliable performance of these low-cost, low-maintenance teeth. But, eventually, his crew caught wind of a new mulching head design and wanted to give it a try. The new attachment would still work well with carbide teeth but was optimized for maximum performance with sharpened knives. Solida decided to give it a try. "We had just purchased a new carrier, a Caterpillar 299D3 compact track loader, and we wanted to put a new mulching head with it," he said.
The mulching head Solida demoed was a Battle Ax from Loftness. "We've had Loftness in the past," he said. "We started using them because we've had good experience with their equipment, and they've always given us great service. When we tried the new Battle Ax, we were really happy with how it performed, and we actually bought two of them at that time."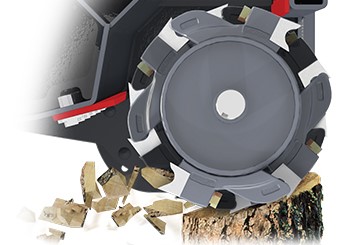 What helped the Battle Ax stand out during the demo was a new rotor design, which is a response to more contractors wanting to install sharpened knives on their mulching heads instead of carbide teeth. Knives can slice through material at a much faster rate than carbides, but they have a tendency to bite into material too aggressively, which can end up hindering performance. The new rotor addresses this issue by using built-in depth gauges to prevent too much material entering the drum at one time, thereby optimizing productivity. This concept is very similar to the raker teeth found on chain saws.
Another drawback of knives that the new rotor seemed to alleviate is the need to sharpen them regularly. Unlike many traditional mulching attachments, the Battle Ax only uses a single bolt to remove the cutting teeth, instead of two. Additionally, a common hex socket is the only tool required to reverse, replace or remove the teeth on the jobsite.
Since adding the two mulching attachments to his fleet, Solida has been very happy with the added productivity. "I've been stuck using our older machines, but the guys that run the new Battle Axes really like them," he said.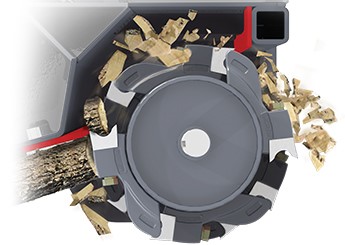 Another benefit that Solida enjoys with his mulching attachments is the two-stage cutting chamber, which cuts material twice before discharging it toward the ground. The primary shear bar, where material is cut first, is adjustable so the clearance can be narrowed or widened depending on the desired material size and production rate. Since Solida's right-of-way contracts don't require the machines to produce very small particles, he can keep the opening fairly wide to help maximize his working speed.
The only real downtime Solida has experienced with his mulching heads so far is the result of debris on the jobsite. "Right off the start, we hit some railroad iron with a brand-new mulching head," he said. "I took it right up to the factory for repair and they had it done the next day. They really take care of us."
For Solida, his latest equipment purchases are more than simply replacing older equipment. The new rotor design of the Battle Ax represents a leap forward in efficiency for mulching equipment. Or, as he puts it, "We've updated to the latest and greatest."